You'll all be pleased to know that my Mum emailed me yesterday to tell me which of those guys is my Dad. I replied that actually, I DID know, I was just being discreet with photos on the web. And that she'll appreciate that when I get onto her side of the family.

Anyway, he's the guy on the far right, without a helmet. Mum did tell me that's because as a student, he didn't yet own one. So there you go.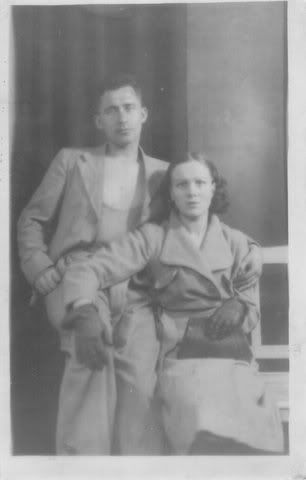 Up next – this is one of the most extraordinary photos in the family album. It's my paternal grandparents, Lyndon & Marie. They look awfully young here, and so I'll hazard an educated guess that this was taken during the Great Depression. While my grandmother has on a lovely coat & gloves, my grand-dad doesn't seem to own a shirt…

It's OK though, their lot improved no end, so that by the time I came on the picture, my grandfather owned lots of shirts. Lots.

I don't know much about Lyndon – I remember a fairly stern & reticent man, with a windowsill full of medication for his emphysema. He was the foreman at the local mine, a long standing town councillor, and the secretary of the Crosskeys Rugby club. Very well read, apparently, and probably a devout Socialist. He was often asleep when I was there, it depended on what shift he was working. Sometimes my grandmother would fill the bath & he'd come downstairs & bathe in front of the fireplace, while I watched Bill & Ben on TV. His father "Pop" lived in a house across the street, and was ancient, I only learned yesterday that Pop's real name was William.

Lyndon had a succession of dogs which he'd rescued from the local pound, they all seemed to be called Sandy, and he spoiled them so badly that they were utterly devoted to him (and would tolerate no-one else), until their kidneys gave out from the treats he lavished on them. He'd occasionally travel on council business, and the dog would pine & starve itself until his return. He'd take me & the Sandy of the day to nearby Pandy Park, where he'd attend to Rugby Club business & I'd play outside. In fact, a mosaic of Crosskeys historical scenes was put on a wall at Pandy Park, and to one side was the figure of a man, with a cloth cap & his faithful dog by his side.

My mum says that he seemed a shy man at times, but he wasn't really, and that he had a rod of steel in him (figuratively). There is a possibly apocryphal story about him disposing of the family cat when times were particularly hard. I don't know the details, but the cat was bundled into a sack, and Lyndon carried it to the bridge at the top of the street & threw the sack & cat into the Sirhowy River, which flowed parallel to Tredegar Street, down past a row of allotments. Heavy of heart, he trudged home to find the cat drying itself by the fire. The cat lived for years longer.

Lyndon & Marie visited us in New Zealand (Marie came twice actually), but he seemed old & odd to me. Considering he was there to watch his eldest son die, I should not be surprised. He became a regular over the months he was here, at the Naenae Rugby Club, and the Naenae Hotel. One thing we noted, was that he seemed incapable of saying "No" to anything, and the story goes that his number 2 son, my uncle, experimented with how many pies & hot dogs he could feed his father at a rugby match, before he declined an offer. It was a lot.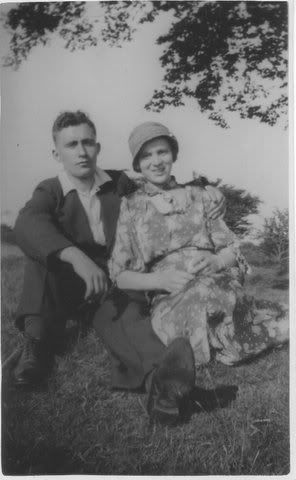 I have many memories of Marie, she often looked after me when my parents were working. I thought all grandmothers were like her, but I came to realise they weren't…. oh, and I should mention at this point, that she & Lyndon had a third son, who is only a couple of years older than me.

Marie was a clever woman, the sort who could do a Times cryptic crossword in minutes, she'd race my dad. During the war, she drove a forklift at a local munitions factory. At some stage, she discovered that the people she thought were her parents, were her grandparents, and that her aunt, who was "in service" in London, was really her mother who'd left town after being ditched by her boyfriend (he ran off to Australia). Because of that, my father & his brother would spend time in London with their grandmother. I suspect they were unusually well travelled in that regard.

Marie swore like a trooper. And drank like a fish. And I suspect that she was not entirely reliable. On being sent downstairs one night, by Lyndon, to silence a rowdy bunch of boys who were drinking & smoking & playing cards downstairs in the wee hours of the morning… She failed to return to bed, having had herself dealt into the game & a glass of sherry poured. She probably proceeded to fleece the boys of their wages.

When it came to dinner, she'd emerge from the kitchen & ask Lyndon what he would like. Then she'd go & start preparing it. Shortly afterwards, she'd emerge again & ask me what I wanted, and head back to start that, finally, she'd ask her son. And so she could be preparing up to 3 or more completely separate meals at any one time. She was not the greatest cook either, not that I knew at the time, I was quite old before I realised that chips should be crisp, not limp & soggy like shoelaces.

Marie survived her husband by a couple of years, but had suffered alzheimers for a while. Neither of them was very old when they died.

Oh... and one thing I forgot to mention, proof that my grandfather was kind to humans & animals alike... on our return to the UK after 4 years in NZ, within minutes of arriving at the old house in Tredegar Street, Lyndon, somehow knowing exactly what it was that his daughter-in-law had missed most about home, took me aside, pressed a few quid into my hand and said "Run up to the corner shop & get your mother some Kit-Kats."

Crosskeys