Man! Thursday morning in Welly sucked. Well... it blew & persisted actually. Great day to be driving North in an unfamiliar car.

But drive North we did. And the loaned Skoda Octavia was an admirable car to drive, I have to admit. Once I familiarised myself with a manual transmission again. Only stalled it 3 times in the entire weekend...

The weather cleared around about Waikanae. Our first stop was the Arctique Kennels, where we left Wilma for the duration. She was really happy to get into the place, but had a very cross & confused look on her face as we tootled away, waving goodbye through our watery eyes...

Our next stop was the Windmill cafe in Bulls. Sub-Eurovision song contest music (imagine a medley: Olay Olay & What Shall We Do With The Drunken Sailor), awful food & coffee, and the place is crowded with kitsch, including those horrid rustic clay figurines which would give you nightmares. You know the ones - bulbous faced leprechaun looking things. My advice to anyone is to keep driving.

And Taihape was the place we stopped for lunch. The much over-rated Brown Sugar cafe. Although there was nothing wrong with my cheese & bacon on toast.

We stopped briefly again in Taupo & amongst other things, bought a very cheap micro stereo from Noel Leemings (ultimately to grace our bedroom at home). Very cheap. As evidenced that we used it once, played one CD, went to dinner and next time we tried to turn it on, it wouldn't work...

Then it was onto Tirau, which IMO is a very pleasant little town to spend a few hours in. Or even a night - I can recommend the OK Tirau Motel very highly. And the cafe next door, which did an excellent steak, the first of several in the weekend.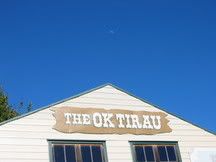 By now, the weather was positively summery! The next day's drive was a doddle, through the lovely Waikato to Thames & lunch. Then, our first mistake (not counting the Windmill cafe in Bulls), instead of driving back to the Whitianga & Tairua turnoff, we believed our roadmap which showed the much shorter route was North, and over a pass to Coroglen. 29 km of metal & dust & winding road took us an hour & a half... Resolved not to come back that way. Although it would have been fine if we'd had our high clearance Touareg (we would have been able to say we'd taken it "off-road"!) & not a road hugging family station wagon.

Whitianga seems to be undergoing some major redevelopment, since we were last there 2 years ago... although the main township seems pretty much the same, there are large tracts of land outside town being prepared for residences & retirement homes. Our motel turned out to be about a 100 metres from the wedding venue, but the accommodation was very small. I can recommend the steamed mussels & the porkribs from a cafe called Tuatuas, and also the venison from Salt cafe.

The wedding itself was at a place called Ohuka Lodge, which has just been built (by the groom). It's on a convenient shelf of land (presumably a "raised beach") on the hillside overlooking Mercury Bay. It is a million dollar view, and once the landscaping is completed, it will be a million dollar place to stay - and presumably much cheaper.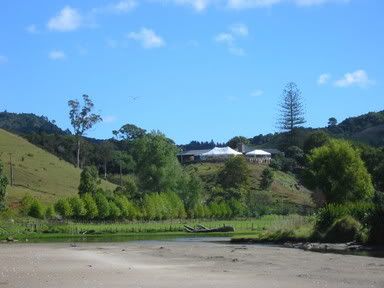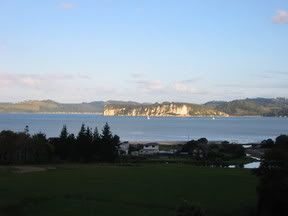 There were some 300 guests, including TVNZ guy Bill ralston & his wife Janet Wilson. There was a bit of a queue to genuflect, so Bill & I did not get around to discussing my TV career. Although I did compliment him on his hat.

We partied till late, I met a lot of interesting people, and to refer back to the title of this post, the very best exchange of the evening came from a woman who had just been telling us about her job in some "male health" clinic - the brand name "viagra" cropped up a lot in the conversation - another guy came by & overheard a little of the topic, he stopped, stared at the woman (who was quite tipsy), and asked:

"What are you?"

and she looked up, and said:

"I'm a... I'm a... I'm a.... (pause)... I'm a really great fuck, Nigel"

Just magnificent IMO (her response, not her self professed talent).

Oh... and the food! There was a rowing boat, filled with ice, and then topped with a huge mound of seafood, oysters in the half shell, crayfish, prawns, squid, mussels... It was quite something. And on top of that, there were curries, sushi, a major barbecue... we gorged. And we drank...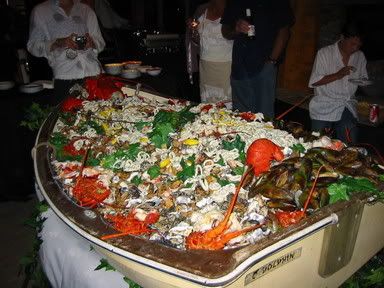 And lo! We were actually quite healthy & rested the next morning. We drove South, stopped for lunch at the Fine Swine cafe in tirau, where coincidentally we ran across a well known blogger, author & speechwriter (honestly David, I am not stalking you!) on his way North.

Spent the night in Tokaanu, as is our habit on our way home from the Coromandel, soaked in the mineral pool, had the best rib-eye steak I've had in years at a place called The Poachers, in nearby Waihi beach. I can't recommend this restaurant enough actually, 3 minutes drive from Tokaanu. Try it.

And home the next day, a dream ride, weather turned as awful as we'd left it around about Porirua... stopped & picked up a very happy Wilma on the way...