Heh. Fantastic!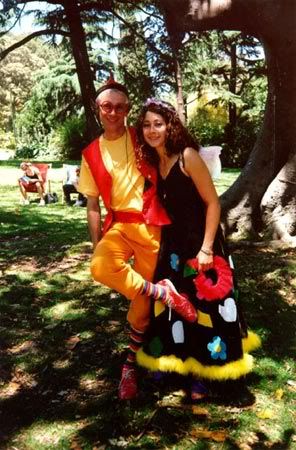 Actually, I came here because when I read about Fairy Trina appearing this Sunday at the Botanic gardens, to entertain kids (and no doubt, their dads...), it occured to me that if this was going to be Wgtn City Council Communications Manager Trina Saffioti prancing around in a tutu & wings, then it probably would constitute a diverting afternoon's entertainment.

But it's not that Trina. Fear not however, the real Fairy Trina looks like she might make just as interesting a diversion (I'm out of town on Sunday, so I post this as a public service to the rest of you). And you solo dads, think about it, if Toddlepot here is the competition, I suggest you sit near the front & look receptive. Your kids would love a Fairy Stepmother, I'm sure.

With my luck, the good fairy is probably married to one of the creators of the famous Grillslinger & I'm in for another few weeks of outraged fans visiting this site & haranguing me.

But wait... there's more.... for anyone who has ever wondered about people who dress up & prance around like fairies & pixies (as opposed to bona fide professionals like Trina)... I came across this guy some time ago.

His story is fascinating, when he first came to my attention there was a desperate heartwarming plea on his site for any aspiring Tinkerbells to get in touch. A year or so later, when I checked back, not only had he found his Tinks, but she was kind of hot!

But flashforward another year, and it seemed Peter & Tinks had gone their separate ways. So sad. I didn't check this time to see if there was any joyous reunion, or if a new Tinks had taken up residence. After all, it doesn't pay to get caught looking at a site like that too often, people might get the wrong idea.

I bet his Kiwi cousin invented the Grillslinger & I'm in real trouble now...

Fairy Trina - Hello!