As part of my occasional foray into the world of superior chick-flicks, we watched the film De-Lovely last night.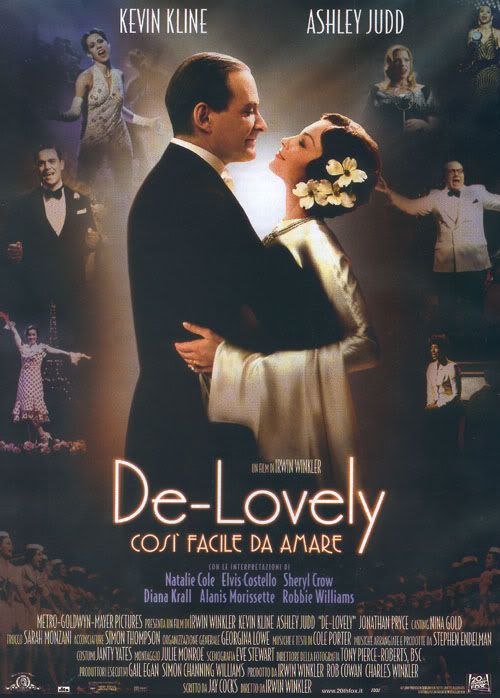 It's the story of the epic love between legendary songwriter Cole Porter & his wife Linda. They were undeniably (from what I've read) soul mates. But love's course did not run smoothly, because Cole was also openly, & ragingly homosexual, and indulged this facet of his personality, rampantly.

The amazing Kevin Kline is Porter, the lovely Ashley Judd is Linda, and the whole story is presented somewhat in the form of a Broadway musical, or at least a collection of numbers from several Broadway musicals. Kline is no stranger to musical theatre, and if you have the chance I urge you to take in the version of the Pirates of Penzance, within which Kline plays the swaggering Pirate King. He's magic.

The story is also curiously framed in that an unnamed angel (perhaps?) played by another musical theatre veteran, Jonathon Pryce, takes an aged (or dead?) Porter through the sundry episodes that made up his life.

The best bits though, are the musical numbers, sometimes performed by Kline & Judd, and sometimes by modern day performers (Robbie Williams, Natalie Cole, Sheryl Crow, Alannis Morrisette, Elvis Costello & Diana Krall, Mick Hucknall amongst others). These performances are without exception, terrific, Morrisette's voice in particular, suits Let's Fall in Love really well...

At one stage Porter comments that all his songs are about Linda, but that doesn't stop him seducing the leading actor in one of his musicals, when in order to show him how it should be done, Porter sings his masterpiece, Night & Day, in a most beautifully crafted & filmed scene. I didn't realise, but Porter also commissioned a new hybrid rose, the Linda Porter, as a gift to his wife.

While much of the film is pretty standard biographical fare, it's never more than about 3 minutes from the next song.

Well worth a look. I defy you not to sniffle in the tragic bits.