Sheesh... it pains me that my eternal search for The Blog Post, the ultimate, short piece that gains international attention, kudos, awards, lucrative job offers & groupies... still eludes me. But stay tuned.

And so once again on a Friday it falls to me to forecast my weekend's activities.

But first, a quick word about the week that has preceded...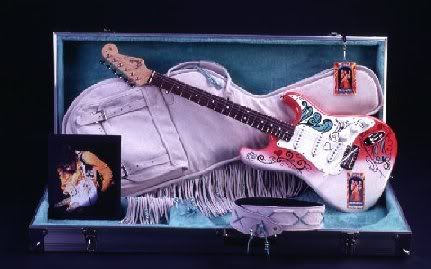 I mentioned something big might be on the cards for SunnyO, but I have to report that the rich, influential person who expressed interest in my much loved Jimi Hendrix Memorabilia Collection, has been sent packing.

His offer was waaaayyy off beam. So nothing to report there, although we are proud of the way we handled the non-negotiations. "Counter offer? No way, we're not actually for sale here. But by all means come back later with an offer we can't refuse."

And so regrettably (and paradoxically, joyously), we have advised the rapacious furniture salesman we met the other day that he does not need to set aside the 2.8 metre dining table & 8 leather dining chairs we looked at. I think he must be on commission, we half expected everything to be delivered outside our front door when we got home, he was so keen. And my DVD hard drive recorder has receded back into the distance...

The weekend looks like it might pretty much be spent as part of the usual netball support team, I can't help but notice that all the pockets of all my jackets seem to hold doggy-doo bags, doggy treats, and extra large fabric sticking plasters for skinned knees.

Tomorrow the team are facing what looks like their toughest opponent yet this year. A team from the Northern Suburbs, who have played together for years, something like 6 of the 7 of them are rep players... we could be in for a pasting. If so, we'll blame the umpires in traditional fashion :)

Later in the day, we have friends visiting in the afternoon, to survey the carnage that is our mid-renovation home. And other friends coming for dinner (on our old dining room table & rickety chairs).

Then on Sunday, it's gonna be more netball, possibly for most of the day. But that's the last Sunday tournament for the year! Yeehah! Next Sunday I can confidently report that we'll be sleeping in.