Saw this piece by Steve Braunias & thought how could I resist. Especially since Steve has done all the spadework. Saves me having to research the guy.

STUFF : ENTERTAINMENT - STORY : Golden anniversary for Howard Morrison

Now I have to confess rather uncharitably, that I think Sir Howard is a bit of an arse. But I'm aware he's much loved and all that, and it would be churlish to deny the guy his success, which came at a lot of effort, dedication, and dare I say... talent.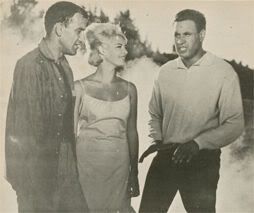 And if you doubt that last sentence, then I really do urge you to seek out this little gem from the past. Don't Let It Get You, directed by a lovely man, the late John O'Shea (fellow ex-film society president), starring some Ocker who has every scene stolen from him by the young Howard Morrison.

The film is great, the soundtrack is fantastic, just the opening song, played over the credits makes you wonder just what happened to Morrison after this film was made.

It's also hugely enjoyable for some risible performances by certain actors, and cameo appearances by Lew Prime (with a fly stuck to his head), Kiri te Kanawa, the Chicks, and many more.

So well done Sir Howard. But you should have made more films like this.