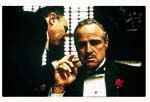 About two years ago, the curmudgeonly old fuck who lives next door put his Janis Joplin Memorabilia Collection on the market. Or more precisely, a little less than half his collection.

He got no offers.

About a year ago, Mrs Llew & I had our Jimi Hendrix Collection valued. It was conservatively estimated as being worth $500k as a set, but if broken down to individual items worth approximately $1.5m. Cool! We'll keep that for our retirement, I thought.

About 2 weeks ago, I got a call from a Mr Tom Hagen, who told me he had a "substantial buyer" interested in my collection. And asking "Is it for sale?"

I told Mr Hagen that no, it's not for sale... but that everything has its price.

I spoke to my accountant & discussed the possibilities.

The next day the accountant rang me "It's a small world, but one of my other clients, Don Vino Minestrone, has called to discuss the possible purchase of a Jimi Hendrix Memorabilia Collection... I told him I have to bow out due to a conflict of interest."

Don Vino Ministrone... I knew that name. Later that day I ran into Mr Samfield, a financial advisor on the dog walk circuit. "Say Sam" I asked, "Do you know a Don Vino Minestrone?"

"Indeed I do, he's one of my clients. A straight up guy..." and he told me all about him.

The next day, Mr Hagen called back to say he had an exciting offer from his substantial associate, and asked could he come & see me this weekend. He also let slip that his buyer was putting an offer on the neighbour's Janis Joplin Collection also.

I explained that we wouldn't be at SunnyO this weekend, but we would be the following. He said he not only had the offer, but also some options that were very beneficial to us, so could he meet me sooner? I would also need to sign a contract with Mr Hagen BEFORE the offer could be tabled. I agreed to an appointment at the Wellingtonista Towers the next day at noon.

Having determined in our own minds, that no way were we parting with the collection for less than $1.2m, or possibly $1m if able to keep the guitar... both these amounts somewhat unlikely, but hey, we're not actually on the market! Mrs Llew & I waited for Mr Hagen to turn up.

On his arrival, I made it clear that I was not happy about having to sign a contract before an offer was made, and also that any commission owing to Mr Hagen would be paid by the purchasor. Mr Hagen was a little over anxious & presented his offer regardless.

$400k, with a lot of conditions attached, including the right for his restoration team to have access to the collection before settlement. And also an option for us to purchase the guitar back from him after restoration. In addition, it seems that the offer for the Janis Joplin Collection is conditional on him being also able to obtain the Jimi Hendrix (which I'd kind of figured out already - due to some things the curmudgeonly old fuck next door told me 2 years ago...).

I said "Is your buyer Don Vino Minestrone?" Mr Hagen made a zipping motion across his mouth. "it's just that", I continued "my accountant called me yesterday to tell me Don Minestrone was interested, and so, if it's not him, we have two substantial buyers interested."

There was a long pause, before Mr Hagen said "It's him".

So I told him, "Anyway, this offer is not what I'd call exciting, and nor are the options what I'd call beneficial. He's not even halfway there. This is not about a fair market price, since we're not on the market, this is about a price that would make us part with our beloved collection."

"Would you like to counter-sign the offer?"

"Um... no, we won't countersign, if Don Minestrone really wants this, tell him he'll have to make us an offer we can't refuse. But this isn't that offer."

As a sweetener however, since we're very considerate people, I did tell Mr Hagen that in the unlikely event that we should sell, we'll be looking for a replacement collection. Perhaps something more modest though, like Howard Morrison Memorabilia.

And Mr Hagen left, surprised I think, at how well informed & connected we appeared to be, leaving me with a very nice Minestrone Enterprises ball point pen.

And that we figured, was that. Maybe they'll come back to us, but we've put our visions of sudden wealth back on the shelf, along with a bunch of planned purchases, investments & overseas trips... & sat back & listened to "all along the watchtower" with pleasure.

But then today, Mrs Llew ran into her old hairdresser (I am not making any of this up), who squealed with excitement & said "It's a small world! I was having dinner last night with our next door neighbours, Mr & Mrs Don Minestrone... there are some things I need to tell you.... listen carefully, I shall say this only wence..."